MultiContour High Rail Gantry Mill
The MultiContour high rail gantry mill is the solution for complex parts with tight tolerances, offering the highest contour accuracy of any Waldrich Coburg vertical machining center. Its high rail design allows for better rates of acceleration and control, making fine contouring and five-axis machining its specialties. Options include pallet changers, FMS integration, and double gantry to maximize productivity. These options combined with standard features such as automatic tool changer and head changer allow for fully automated operation.
All hydrostatic guideways ensure optimal damping, stiffness, and dynamic behavior with minimal wear over time. Equipped with both mechanical spindles for roughing and electric spindles for finishing, the MultiContour is an all-in-one force, particularly in the exacting aerospace and die and mold industries.
Interested in more information?
How the MultiContour High Rail Gantry Milling Machine Gets It Done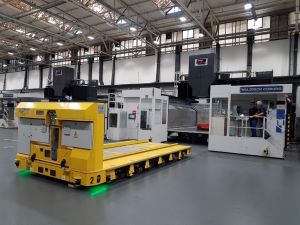 Control
By eliminating the crossrail support columns found in other vertical bridge mills in favor of a fixed rail design, high rail gantries have less weight — and thus force and momentum — to compensate for as they operate, which means finer control.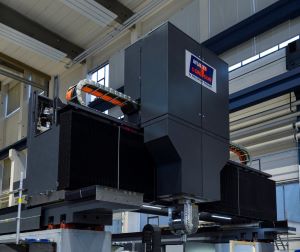 Speed
Not only is the MultiContour nimble, it is fast — high axis acceleration and travel speeds allow it to remove material quickly and efficiently. When speed matters, the MultiContour high rail gantry mill is a clear choice.
Accuracy
Like all Waldrich Coburg vertical mills, the MultiContour is a smooth operator thanks to its all hydrostatic guideways. Using a pressurized oil film, friction and vibration are made non-factors along the machining axis, while eliminating stick-slip.
MultiContour High Rail Gantry Milling Machine Specs
| | |
| --- | --- |
| Mechanical Spindle Power | 45 kW (60 HP) |
| Motor Spindle Power | 20 - 50 kW (26 - 67 HP) |
| Clearance Width | up to 6000 mm (20 ft.) |
| Ram Stroke | up to 2500 mm (8 ft.) |
| Setup Length | up to 50000 mm (164 ft.) |
Contact Us View All Vertical Bridge Mills
MultiContour Videos
Frequently Asked Questions
What is a high rail gantry machine?
A traditional gantry machine's crossrail and milling ram is mounted to columns with the crossrail and columns traveling together on a set of guideways at floor level. A high rail gantry replaces the moving columns with fixed walls that have the guideways located on top. This significantly reduces the moving mass resulting in increased contour accuracy as well as providing the highest dynamic behavior. The benefits to this are increased accuracy, better dynamic behavior and faster acceleration and speed. The downside is that an adjustable crossrail is not available for adjusting to different height parts. Also due to the walls, part loading/unloading is more difficult.
What are the benefits of a double bridge gantry?
Can Waldrich Coburg NA service my MultiContour high rail gantry milling machine?