Vertical Turning Lathe (VTL) Machines
Ideal for larger and heavier rounded or cylindrical parts, vertical turning lathes — also known as VTL machines or vertical boring mills (VBMs) — flip a traditional lathe design on its end, employing gravity to help hold the workpiece in place. Our VTL machines utilize many of the same quality components and the same portal structure as our vertical milling machines — the key difference is the integrated rotary table which handles the turning operations.
With available table diameters ranging from 2.5 to 16-plus meters, Waldrich Coburg's vertical turning lathes can accommodate the most complex, difficult-to-machine parts.
The Waldrich Coburg Vertical Boring Mill Lineup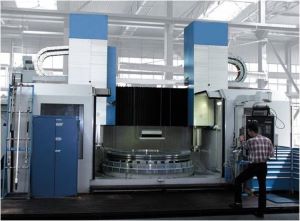 ValuTurn
The smallest of our VBMs is no slouch — its diverse applications have included turbine components, bearings, gearboxes, pump housings, electric motor frames, and more.
MultiTurn
Our mid-sized VBM is a versatile powerhouse, with an optional movable Y-axis rotary table and high-efficiency milling capabilities combining to tackle extremely complex workpieces.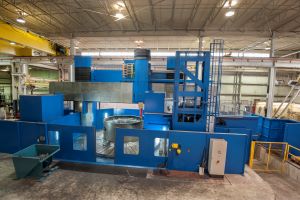 PowerTurn
Our largest VBM shares technology with the PowerTec CNC vertical milling machine, and has found favor among the power generation, aerospace, and shipbuilding industries.
Why turn to Waldrich Coburg for your large VTL machining needs?
Since the introduction of our first vertical turning lathe in 1997, Waldrich Coburg has emerged as one of the most reputable VTL machine manufacturers in North America. Our VTLs are equipped with hydrostatic guideways, dedicated heads for turning and milling, and automatic tool changers — guaranteeing your machining operations will be smoother, more capable, more precise, and more efficient.
When demands are placed on accuracy, machining efficiency, and large and complex workpieces, customers rely on Waldrich Coburg to provide the best industrial machining solutions.
Frequently Asked Questions
What is the difference between a vertical milling machine and a vertical turning machine?
The primary difference between a vertical milling machine and a vertical turning machine is whether the workpiece is moving or the cutting tool is moving. A vertical mill uses any number of spinning tools attached to a spindle axis to clear away material from a stationary workpiece attached to a machine table. In contrast, a vertical turning machine, also called a vertical turning lathe (VTL), rapidly rotates a workpiece against a stationary cutting tool.
What are hydrostatic guideways and why are they desirable?
What industries can benefit from vertical turning lathes?
How do I determine which vertical turning lathe is right for my operation?